Research
From the launch of the game the summer of 2020, we are doing a series of proof of concept studies.
As a cognitive behavioral tool The Happy Helping Hand application is based on a solid fundament of research. Further, research on the Helping Hand analouge programs suggest that this way of promoting health and preventing mental health problems are feasible and impactful. However, when a new psychosocial tool is made and used in new 
contexts, it should be evaluated. Here you can get an overview of research done on the app after it was launched, as well as ongoing studies and planned studies.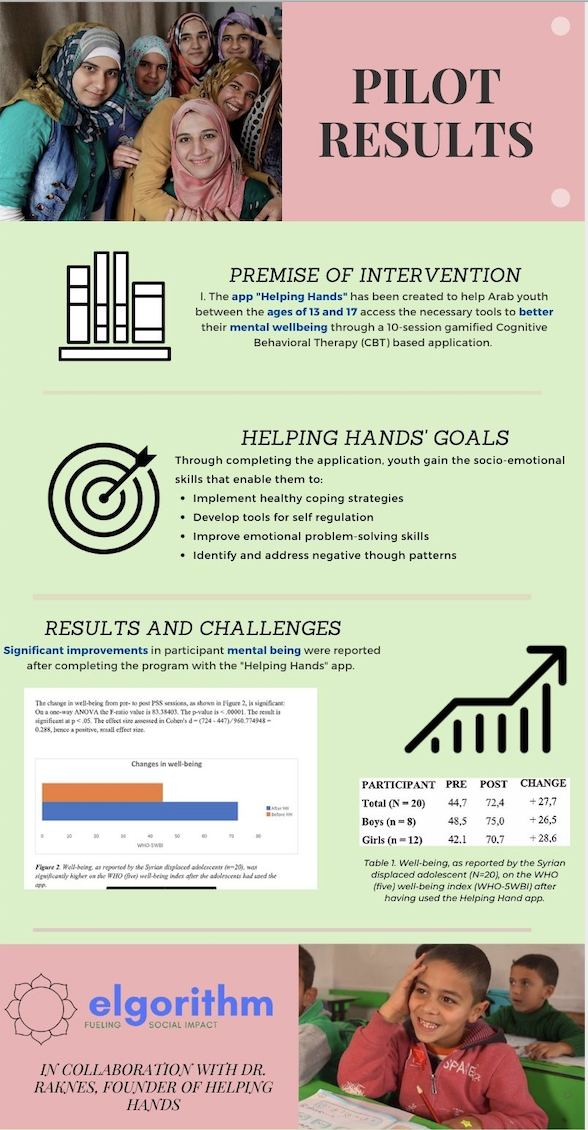 STUDY 1
The Happy Helping Hand
used by Syrian displaced adolescents in Lebanon:
 a Pilot Study of Feasibility, Usefulness and Impact
Background: The ongoing Covid-19 pandemic, economic crises, the aftermath of the explosion in the Port of Beirut, and the impact of the war in neighbouring Syria, have together resulted in a great need for psychosocial support (PSS) among adolescents in Lebanon. Mental health and wellbeing games represent a scalable approach for improving wellbeing and psychosocial skills in adolescents across economic divides, and have potential to improve the equity of mental health service access.
Objective: The Happy Helping Hand (HH) digital game was developed to address the urgent need for innovative approaches to reach Arabic speaking adolescents (including refugees) who are struggling in poverty. The aim of this study was twofold: to evaluate the feasibility and usefulness of the HH, and to examine the potential impact of the game in improving adolescents´ psychosocial wellbeing.
Methods: A mixed methods study was undertaken to achieve these aims. The study took place in Central Beqaa from September to October 2020. Participants were recruited in informal settlements for displaced Syrians. 20 Syrian adolescents aged 13 – 17 years participated in a ten-session PSS program which took place over a period of ten weeks. During this program the HH was used in all sessions, and the impact of the game evaluated.  Impact was evaluated using a validated wellbeing questionnaire undertaken both at baseline and directly after the end of the PSS program. Usefulness and feasibility was assessed by participants by a questionnaire designed for this study, as well as by an interview and session-to-session reports by the PSS group-leader.
Results: The refugees who used the game found it easy to use, educational and they thought it helped them feel better. After ten weeks of using the HH,  significantly better wellbeing was reported by girls and boys. The mean scores in wellbeing changed from indicating depression before using the game, to normal wellbeing (non-depressed) after having used the app for ten weeks.
Conclusions: There is an urgent need to upscale culturally appropriate interventions to address the mental health of adolescents in Lebanon. An evidence-based cognitive behavioral psychosocial game available for free to all young people in Lebanon was tested. The results indicated that the game was feasible, engaging and useful, and after having played the game, the adolescents´ wellbeing had increased. This study adds to the evidence of  e-health tools as useful to increase wellbeing, improve coping skills and prevent mental health disorders across economic divides.
Keywords: COVID-19; adolescent; games; coping; coping skills; mHealth; mental health; mobile applications; pandemic; wellbeing.
Corresponding author: Dr. Solfrid Raknes; solraknes@gmail.com
The white paper of the study is published here
STUDY 2
Does using the Helping Hand (HH) app in groups led by a teacher improve adolescent Well being?
A pilot study conducted in Beqaa and Arsal in Lebanon. 90 young Syrians in Lebanon are supported to use the Helping Hand game for 10 sessions school. The aims of the study are a) to investigate whether the adolescents (age 13 – 17 years) who use the HH show improved well being and problem solving skills after using the app, and b) to explore the feasibility and impact of the game based on the teachers and adolescents´ experiences. A mixed method study design, where digital questionnaires are used to collect data directly from the adolescents, combined with focus group interviews with teachers and adolescents. Status: Study completed, data under analysis. The study is done in collaboration with MultiAid Programs in Lebanon and OsloMet, and funded by Midsund Rotary Club, Norway. The teacher Alaa Munir Al-Khayat is writing her master thesis based on the study, a study approved by OsloMet, and planned finished June 2021. 
Read summaries from the focusgroup with boys, girls and teachers!  
And more studies are on their way!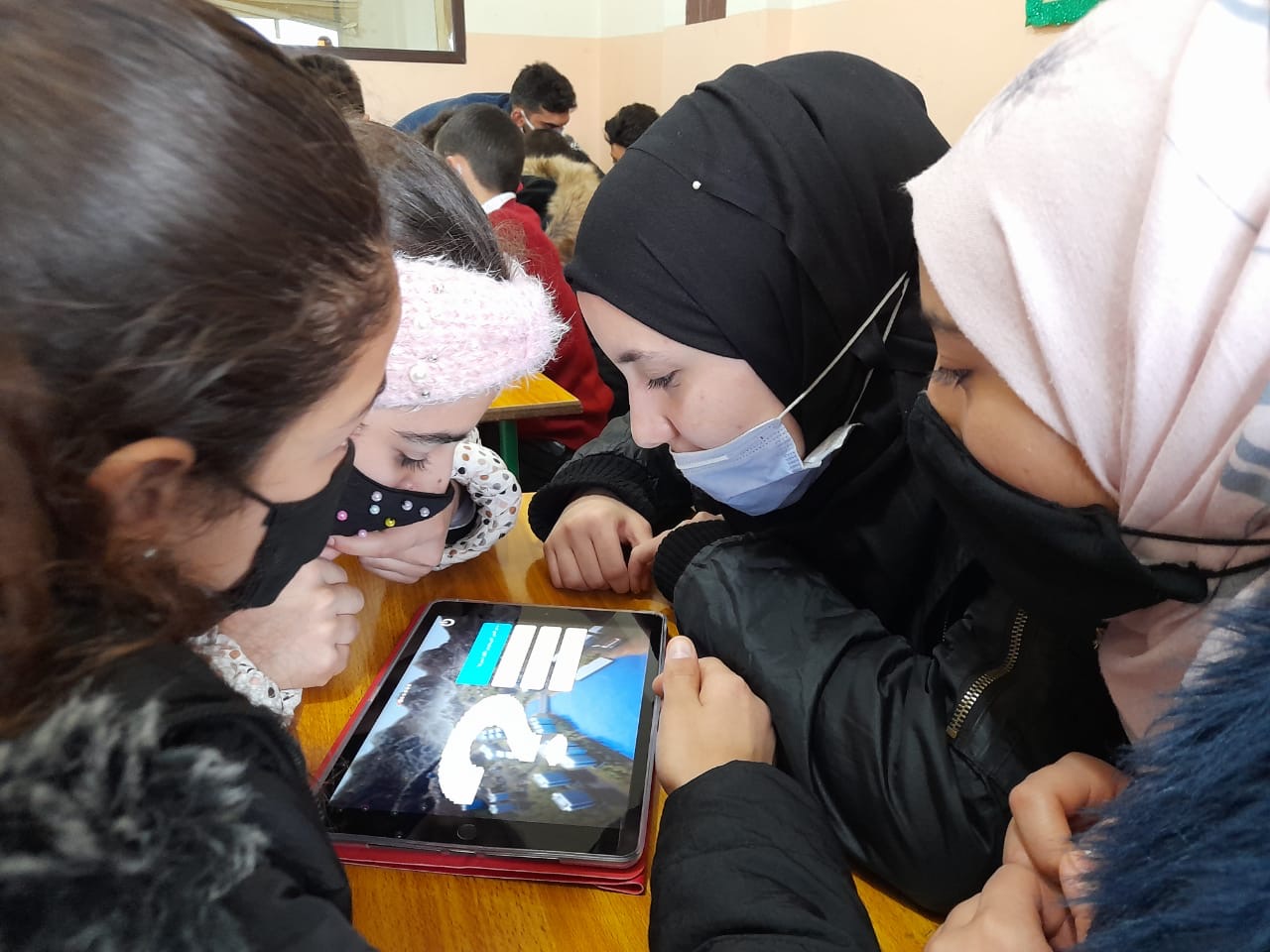 Previous central studies on psychosocial programs developed by Dr. Raknes and collaborators
Haugland B, Håland Å, ...Wergeland G (2020). Effectiveness of brief and standard school-based cognitive behavioral interventions for adolescents with anxiety: A randomized non-inferiority study. Journal of the American Academy of Child & Adolescent Psychiatry. https://doi.org/10.1016/j.jaac.2019.12.003
Raknes S & Kolia, R (2020). Field Realities: Measuring the Impact of Psycho-social Support Services with Refugees and Internally Displaced Populations. 
Haugland, Raknes, Haaland, Wergeland, Bjaastad, Baste, Himle, Rapee, & Hoffart, (2017). School-based cognitive behavioral interventions for anxious youth: study protocol for a randomized controlled trial. Trials 18:100. doi:10.1186/s13063-017-1831-9">doi:10.1186/s13063-017-1831-9
Raknes, Dyregrov, Pallesen, Hoffart, Stormyren, & Haugland (2017). A pilot study of a low threshold, low intensity CBT intervention for traumatized adolescents. Scandinavian Psychologist. 4, e8. https://doi.org/10.15714/scandpsychol.4.e8

Haugland, Raknes, Haaland, Wergeland, Bjaastad, Baste, Himle, Rapee, & Hoffart, (2017). School-based cognitive behavioral interventions for anxious youth: study protocol for a randomized controlled trial. Trials 18:100. doi:10.1186/s13063-017-1831-9">doi:10.1186/s13063-017-1831-9
Haugland, Mauseth, & Raknes (2013). Psykologisk førstehjelp i førstelinjetjenesten. Implementering og evaluering. Bergen: UNI Research. her
Tilden, T. og Raknes, S. (2010). Psykologisk førstehjelpsskrin i par- og familieterapi. Fokus på familien, 3, 212-225.
Overview of all studies included those written in Norwegian, here